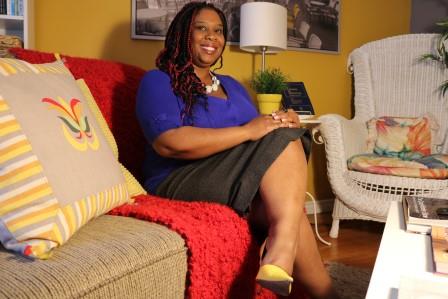 Lee-Ann is a Professional Faith-Based training coach whose movements inspire you on an incredible journey to healing. Lee-Ann knows that in order to achieve results and greatness, one has to face the truth. Knowing this, you will realize that when Lee-Ann speaks with you and tells you the truth, she is speaking to the David in you that can defeat the Goliath that is taunting and attempting to destroy you.
She is a fun loving, and spirit-filled adrenaline junkie who has a passion for life and sharing that love for life with others. It is her mission to help others achieve healing; one spirit, one mind, and one body at a time.
After two physically impacting car accidents which forced her to pull away from her beloved Brazilian Jiu Jitsu practice, she has had to slow things down just a bit until she is well enough again to hit the mats in this high energy activity. In the meantime, she has become a Certified PraiseMoves Instructor and is enjoying her time turning her exercises into worship, creating new ways to share her joy and love of exercise and movement. Once again, Lee-Ann is able to prove with her effortless change of direction, that she will NOT allow the challenges life thrown her way to stop her. They may slow her down for a moment, but only for her to find firm footing and start marching again.
Lee-Ann believes that your spirit, mind, and body are interwoven, and are required to live completely whole. If one area is out of sync, the imbalance can create an unhealthy life. Lee-Ann credits being whole can be achieved when we combine the spirit, mind, and body to manage the stresses in all aspects of our lives.
Having spent many years cultivating and excelling in a fast paced highly competitive career in Corporate Canada, Lee-Ann knows this prepared her for this new journey in life. The energy, attention to detail, and tenacity she used in her corporate lifestyle allows her to create an atmosphere for healing inspiration and encouragement to all who come into contact with her. Knowing her mission and passion was to impact lives in a deeply phenomenal way, Lee-Ann didn't hesitate when it came time to leave her high profile Cryptographic Information Security position as a consultant.
Not only does Lee-Ann journey with her clients, she uses her free time to get creative in the kitchen; perfecting yummy treats and creating amazing nutrition plans. "What goes in your mouth, goes on your body" is what Lee-Ann lives, which is why she works passionately and diligently to create nutrition plans that will allow her clients to maintain the journey they are travelling without the highs and lows which can be associated with weight reduction. Lee-Ann is not only about weight release, but about lifestyle.
'Life is something we all have.
Style is how you choose to live it.'
If you seek a life of change; your then self and your now (future) self has finally met... self, here is Lee-Ann.